Climate Neutral Printing
powered by ClimatePartner & FARNEK
Farnek provides an opportunity for Printing Companies to establish their commitment to climate action & sustainability by making their print products carbon neutral. By printing your products climate neutrally, you can reduce your company's carbon footprint. With climate neutral annual reports, brochures, business cards and other print materials, you can emphasize your sustainability and climate protection strategy. With climate neutral printing, you will be supporting internationally recognized climate protection projects – with full transparency assured. This will be seen as a huge plus for your customers, for whom buying from eco-friendly companies is becoming an ever increasingly important issue. The same goes for your business partners, who increasingly select their partners based on climate protection criteria. The climate neutrality of the product can be verified by entering the ID number in www.climatepartner.com/en. Your colleagues and customers will be able to see the amount of greenhouse gas emitted during the production of your product and which climate protection project has been selected to offset these emissions.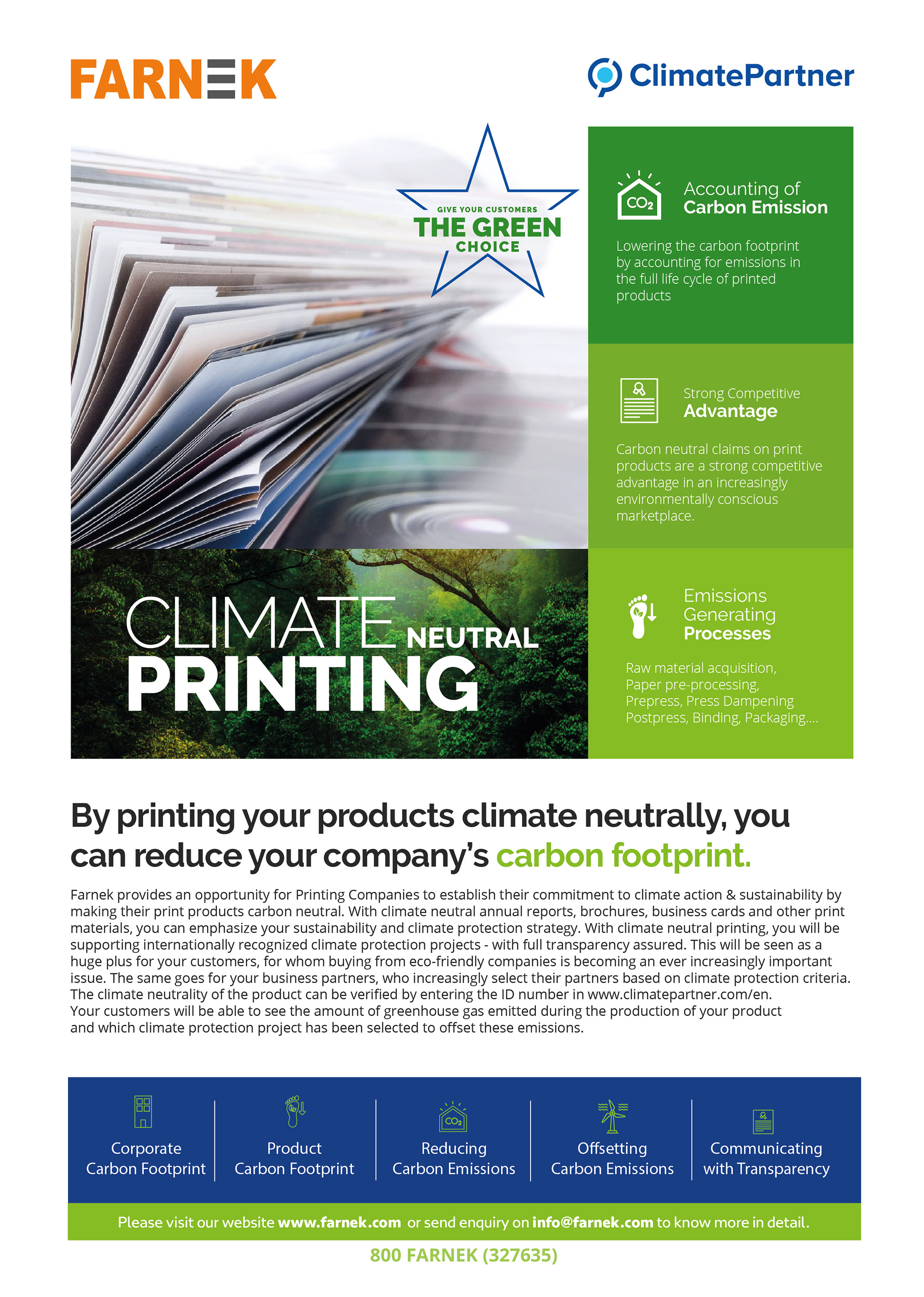 Carbon offset projects help counteract the release of greenhouse gas (GHG) emissions, whilst simultaneously improving the livelihood of people around the world. By supporting carbon offset projects, companies can offset emissions that are currently unavoidable and therefore reduce their overall environmental impact.
Using the ClimatePartner climate action methodology, Farnek's consultants will be designing tailor-made solutions for Middle East businesses. It starts by defining corporate and product carbon footprints followed by the implementation of a climate action strategy and a carbon offsetting plan. The final act is to communicate that to corporate stakeholders.
ClimatePartner has been offering a wide variety of environmental solutions since 2006, ranging from carbon management strategies to enabling climate neutral products and services. They are also involved with numerous internationally-recognised carbon offset projects and in addition, the company has also developed an IT solution for calculating carbon footprints and offsetting carbon emissions in order to make products and services carbon-neutral.
Benchmark Your Property Within Hotel Industry
For more inquiries please contact us
DOWNLOAD
THE COMPANY PROFILE
Download our corporate brochure using the links below to learn more about us
Farnek would like to hear from you, if you have business inquiries or would like us to get in touch with you.
For more inquiries please contact us