FM Consultancy of Farnek helps printers to become carbon neutral
The COVID-19 pandemic came as a severe jolt, creating socio-economic fissures that impacted society like never before. But come to think of it in a more positive way, it is here that a realization for environmental protection grew manifold. There was an urgent need to consider the ecology as an investment for the future.
The biggest challenge to conservation globally is the steep rise in carbon emissions from industry and motor vehicles. With climate change and pollution, utmost priority is being given to protecting the environment while at the same time undertaking much-needed development initiatives. And for this, governments all over the world have begun to focus their efforts on becoming carbon neutral.
In a recent online meeting, Nadia Ibrahim, Head of Sustainability at Farnek Services, shed more light on the importance of this very point of carbon neutrality. Farnek is a Swiss-owned independent total facilities management (FM) company. Established in the UAE since 1980, Farnek has a sustainability department and also works as a full-fledged consultancy service in the Middle East. Some of their iconic clients in the UAE include Burj Khalifa, the Dubai Mall, Dubai Airport, and some prominent companies in Abu Dhabi.
The company boasts several awards for their initiatives in energy management, waste management, etc. "We are partners with Green Globe, an international certification body for the hospitality industry. And carbon management is integral to our sustainability strategy, which we initiated more than a decade ago," says Ibrahim.
According to Ibrahim, the concept of carbon management is picking up very fast in the UAE and for companies, including big corporations' carbon metrics is inclusive in the ESG (Environmental, Social and Governance) reporting procedure. Many organizations and industries are committing themselves to efficient carbon reduction as part of their sustainability objective and commitment to the fight against climate change.
We are also promoting this concept to the printing industry, which is often vilified for their excessive carbon emissions, from cutting down trees to the waste generated from printing.
Farnek has an agreement with Munich-based ClimatePartner, an international solutions provider for corporate climate action, to provide consultancy for a full range of life cycle carbon management services in the Middle East. According to ClimatePartner, up to 25% of the printing presses in Europe have climate-neutral printing products and demand is increasing, not only in Europe but worldwide.
Already sustainable changes have been seen with an increase in the use of FSC (Forest Stewardship Council) certified paper which comes from managed forestry rather than from virgin forests.
The Carbon Management Process for printing involves three stages. This includes the calculation of CO2 emissions of the whole printing process of a company, calculating the carbon footprint of an individual product say for example office paper or a brochure or a book for a specific order and offsetting the emissions through an approved Carbon Offset Program.
Numerous well-known publishing houses have many of their books printed using carbon neutral paper, and the trend is certainly picking up," says Ibrahim with an air of confidence. Increasingly more and more customers are demanding carbon neutral print products as part of their sustainability objectives as well.
Put succinctly, the definition of carbon offsetting is the action of compensating for carbon dioxide emissions arising from industrial, commercial or human activity, by participating in sustainable schemes or projects, designed to make equivalent reductions of carbon emissions into the atmosphere. Carbon offsetting is approved by the United Nations Clean Development Mechanism (CDM).
This allows countries to fund greenhouse gas emissions-reducing projects in other countries and claim the saved emissions as part of their own efforts to meet international emissions targets. Explains Ibrahim, "The objective of the United Nations is to let companies do their business but in return pay for the damage done to the environment.
The central notion of Corporate Social Responsibility (CSR) is to let corporations maximize their profits while pursuing other pro-social objectives. We had meetings with several pulp and paper manufacturing companies in Abu Dhabi regarding the same project."
Farnek has partnered with ClimatePartner, a German-based organization that offers companies around the world with climate solutions: from climate action strategies and carbon footprints to climate-neutral products with the support of international carbon offset projects. "Canon works with ClimatePartner and produce carbon-neutral paper.
The meeting was concluded with an interactive Q&A session between Ibrahim and ME Printer Editor-in-Chief Alex Jahanbani who wanted to know more about how easily carbon management could be incorporated into the printing and packaging industry.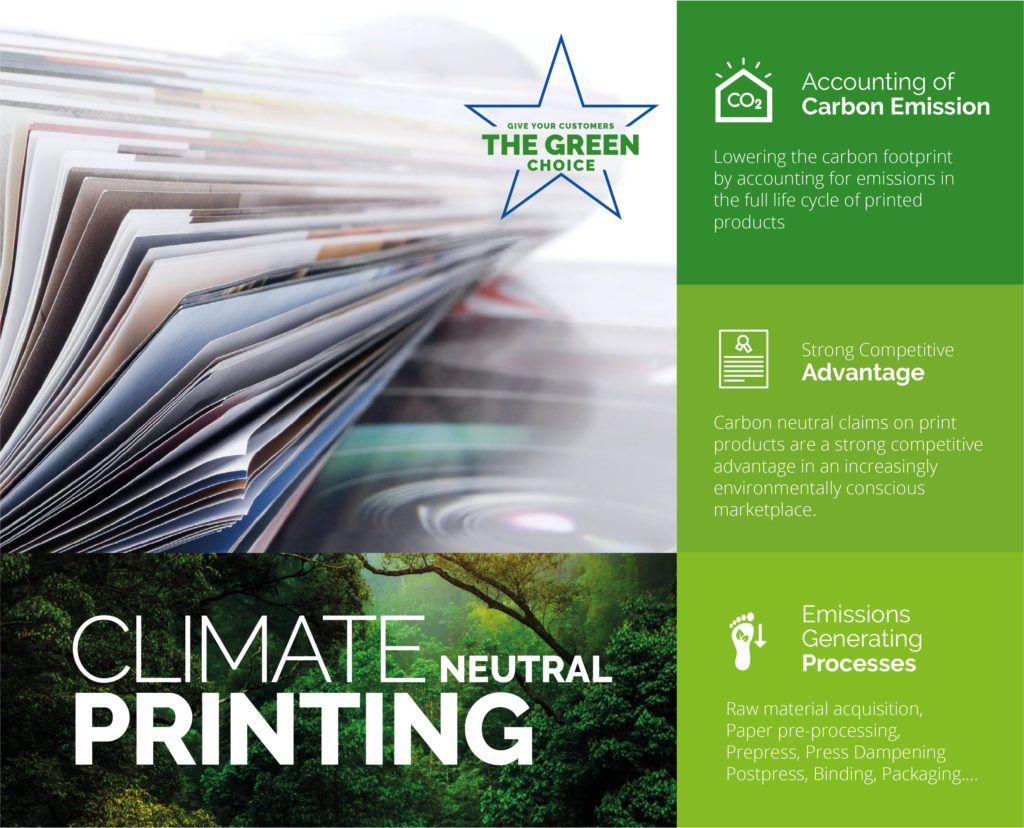 Excerpts:
Alex Jahanbani: The printing process is a very complex one with pre-press, press, post-press stages. We have to image the plates, plates go to the printing press, and then there's inking involved, followed by coating, and then drying. Is your process a holistic one covering all these stages?
Nadia Ibrahim: For a complete Carbon Assessment all stages of printing starting from the raw materials to the waste generated from the final product can be calculated. This involves calculating CO2 from utility consumption, emissions for company vehicles, employee computing, CO2 emission from purchased goods including papers, inks and other chemicals etc. are also considered.
The calculation is based on GHG & ISO 14064 requirements and cover Scope 1, Scope 2 and Scope 3 emissions. The assessment also evaluates the carbon footprint of each activity and identifies the activities that create the highest carbon emissions and offers advice about potential solutions to reduce them.
AJ: Normal paper making process involves more carbon compared to recycled paper. However, regarding inks, there are so many brands and varieties such as solvent-based, UV based, water-based inks. In printing, because of the complexity of the whole process, it is impossible to maintain zero-emission. What is your take on that?
NI: Zero emission is the ultimate objective; however, this is not a very realistic objective. The whole concept of Carbon Footprint management is to identify your existing CO2 emissions and focus on reducing them by optimizing your activities in the most sustainable manner. Nevertheless, emissions are unavoidable as businesses have to operate. For higher environmental commitment and action, the reaming emission can be made neutral by supporting a low carbon project through Carbon Offsetting.
AJ: Is there any Carbon Offsetting project being implemented in UAE at the moment?
NI: Yes. The Dubai Electricity & Water Authority (DEWA) has its own Certified Emission Reductions (CERs) from DEWA Chiller Station L Project through adopting the Clean Development Mechanism (CDM) and Farnek was the first company to purchase these offsetting credits. Through these credits we have supported many hotels and organizations to offset events and business travel in an effort towards carbon neutrality in the UAE.
AJ: It seems to me that Zero Carbon Emission is an ideal goal rather than something you can achieve in short or even medium-term?
NI: Exactly, Net Zero is a long-term goal however to achieve the goals organizations must set short- and medium-term goals to reduce their carbon footprint gradually. This should start with assessing their carbon footprint and planning reduction goals.
Even after possible reduction still, some amount of carbon emissions are bound to occur as we cannot completely close business operations. This is where Carbon Offsetting come into play, whereby organizations can compensate the CO2 emissions with a carbon neural project thus creating a balance in global carbon emissions.
AJ: So, this carbon offsetting applies to printers as well?
NI: Definitely; Carbon Offsetting can be achieved by any business or for any specific product. The first step in this direction is to calculate how much carbon is emitted annually from your printing activities or total carbon for a specific print product; this can be done through approved carbon calculator software like the one Farnek is providing.
Once the total carbon in tonnes is calculated the equivalent of this is offset through any carbon reduction project by paying a specified amount per tonne. This is however a voluntary activity but increasingly companies are doing this to reduce their carbon footprint and also as a CSR initiative because often it is communities in the developing world that benefit from these projects.